Jai Bapu di Ji
"True vision does not require the eyes"
-Hellen Keller
As the above quote suggests, it takes a lot more to have a vision, that just a pair of eyes. The vision to dare, dream and overcame all hurdles to achieve your goal. This was witnessed in reality when the members of Harjee Jan Kalyan Trust visited the Blind welfare Center, Sultan Puri, Delhi on 27th March 2022.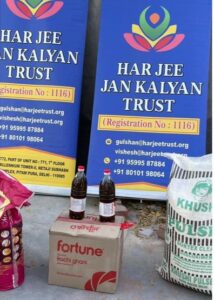 The center aims to work for the welfare of the visually impaired. As a gesture to extend our support for the same, the Trust members distributed everyday Ration items like Aata,mustard oil, sugar, tea, dal and spices./p>
They welcomed everyone with open arms and smiles. Overcoming all hurdles, many of them are studying in few of the best colleges and Universities in Delhi and are striving to be independent. Many others have reputed jobs and motivate their peers to keep striving. Their resilience is exemplary and motivated all to never give up easily.
The Trust aims to continue its support for their welfare in the best way possible and hope to learn from their undying spirit.